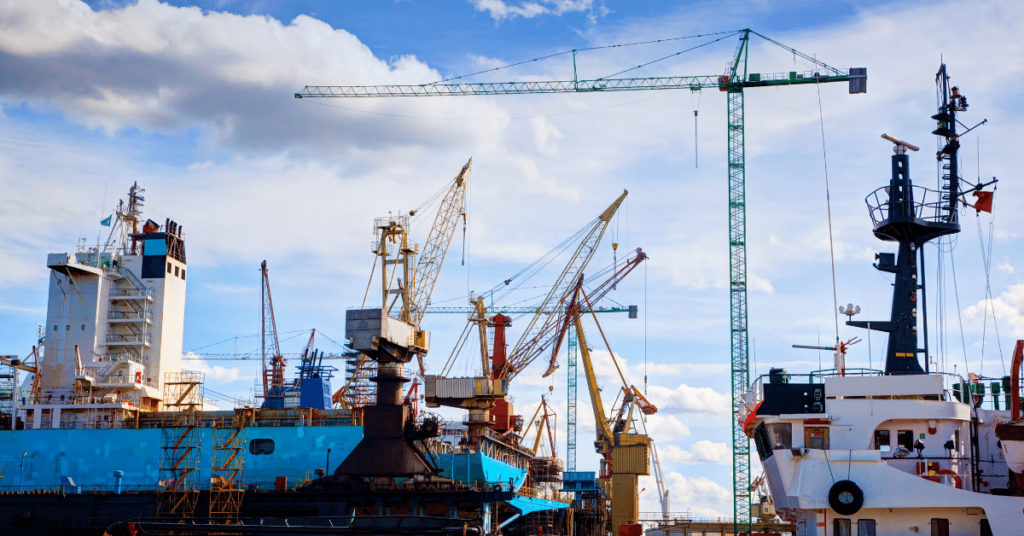 Few industries require more intense coordination and collaboration on the day-to-day job site than the ship repair industry. 
When a ship comes through a port for service, a lengthy, regimented, and highly specific process begins immediately, and, for the process to be successful, everyone involved has to understand the sequence of events and work in perfect concert with one another. 
It's kind of like building a house; each step leading up to completion relies on the proper execution of the step that preceded it. If a step is done improperly or inadequately, the entire process is delayed, and all hopes for a smooth, efficient, and quality job are out the window. 
Ship repair is no different. 
The first step in the process is offloading. A crew comes on and removes practically everything that isn't bolted down (furniture, incidentals, provisions) off of the vessel to prepare it for work. 
Once offloading is complete, depending on the size of the vessel, the ship will then go to a predetermined yard to begin the tank cleaning process. All of the fuel and ballast tanks have to be properly cleaned by well-trained crews adept at operating in confined spaces. 
Then, the "cold work" is ready to begin. A painting crew will come in, tape off everything that isn't to be painted, strip and chip off the old paint with needle guns, grinders, and other hand tools, and begin applying fresh coats once the surface has been prepared up to the standards of the Society for Protective Coatings (SSPC).
While not always required for each repair, "hot work" is another step in the process that is ideally completed before cold work (so as not to ruin any of the new paint work). This phase consists of a whole series of specialists, whether it's ship fitters, welders, or pipefitters. Any of this hot work that produces a spark requires an additional ship repair professional. 
This is where the firewatch comes in. Typically, a job will need two, three or, four firewatch on duty at one time because a consistent line of sight of the work must be maintained at all times, whether it's above, below, or across a horizontal plane that may be interrupted. 
These firewatch professionals are crucial to the overall ship repair process and help to ensure that all work gets done safely. We've highlighted some essential skills to identify when you're looking to make your next firewatch hire below:
Crucial qualifications and expectations of a firewatch
Because firewatch workers are the first line of defense in protecting other workers in the yard, it's critical for you to find employees who are well trained and dedicated to their duties. 
General responsibilities of a firewatch (per VSRA):
Inspecting an area prior to any hot work being performed to ensure all flammable and combustible material have been removed

Delivering all safety equipment to the site

Conducting frequent inspections of the hot work areas

during

hot work to ensure the area is still safe and working conditions are favorable

Staying stationed at the worksite in order to respond quickly to prevent fires

Remaining in place for thirty minutes following work to clean the area and to ensure worksite conditions remain safe
Qualifications (per VSRA)
The ability to carry out written and/or oral instructions

Be physically able to wear required safety equipment 

Be able to work effectively as a part of a larger crew

Be a diligent, reliable worker

Knowledge of hot work procedures

Previous work within the maritime industry and familiarity with maritime terminology is preferred
Tidewater Staffing
At Tidewater Staffing, we understand how important it is for your ship repair business to have qualified and expertly trained staff. We train all of our associates above and beyond the basic NAVSEA Standard Item 009-07 with hours of classroom education supplemented with real fire bottle carrying drills and confined space entry programs.
Our 25 years of experience servicing this niche allow us to prepare and equip our associates with all of the applicable skills and information to begin contributing in the yard from day one. 
Whether you need qualified firewatch, offloading, welding, painting, or any other critical ship repair talent, Tidewater can help. 
We maintain a robust roster of associates and provide extensive training in all relevant tool use and the latest safety guidelines. Get in touch with one of our team members today to learn more about how we can help provide you with a staffing solution that works.