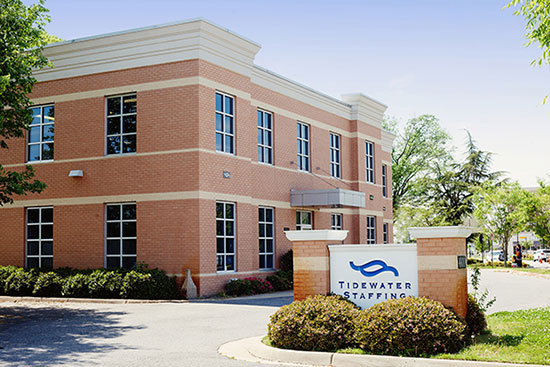 1000 Poindexter St.
Chesapeake, VA 23324
Begin The Process
Tell Us Your Experience
Chesapeake, Virginia Staffing Firm
Short on staff? If you need warehouse, industrial/manufacturing, shipyard or marine staffing solutions and time is of the essence, Tidewater Staffing is the perfect staffing partner for you. Conveniently located a mile east of the Elizabeth River, our team of staffing professionals at our Chesapeake, Virginia office has the network, experience, and industry knowledge to deliver timely staffing solutions to your company.
Why Tidewater Staffing?
When your company partners with Tidewater Staffing for your maritime, warehousing, and manufacturing workforce needs, you gain access to our extensive network of experienced candidates. All of the personnel we provide to our clients have been thoroughly screened and vetted. From verifying OSHA requirements to running a comprehensive background check and drug screening, the skilled employees we send to your work-site will arrive with the Tidewater Staffing stamp of approval.
Whether you're looking to hire staff to improve efficiency or hit production deadlines, Tidewater Staffing is dedicated to solving your personnel staffing needs efficiently and economically. Don't waste time, and contact Tidewater Staffing today to bolster your team.
Looking for a different TSI location?