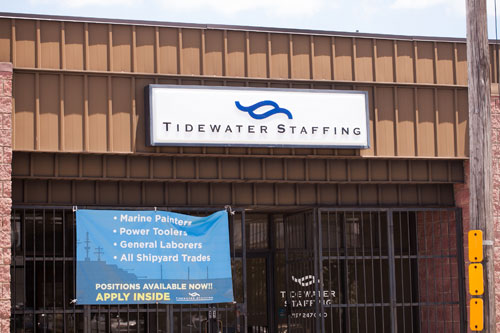 3800 Huntington Ave
Newport News, VA 23605
Begin The Process
Tell Us Your Experience
Newport News, Virginia Staffing Firm
If you need warehouse, manufacturing, or marine staffing solutions then you need to partner with Tidewater Staffing. For more than 25 years, our dedicated team of staffing professionals have been exceeding our client's expectations on quality, delivery, and cost time after time. We understand the unique hiring challenges in the Newport News area, and supply solutions to solve them. Partner with us and take advantage of our wide network of candidates and deep industry experience.
Why Tidewater Staffing?
We provide a level of service that is simply unmatched in the industry. The candidates that we provide to our clients have the technical skills, track record, and the Tidewater stamp of approval. Each person we send to your company has been received all of the requisite screenings—from industry certifications to drug testing.
We assist in any and all yard access scenarios, from access credentials for small shipyards to processing top clearances for military bases. We also provide an onsite presence to make sure all employees are fully prepared to begin contributing immediately.
Find Employees Today
You don't have to be short on staff. Get in touch with Tidewater Staffing today and fill those open positions fast with the experienced and highly trained people you need.
Looking for a different TSI location?